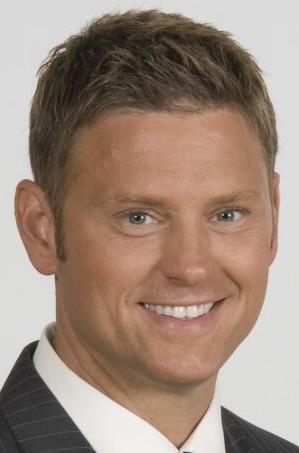 While hosting a radio show last week, Fox 2 news anchor Vic Faust Unleash an off-air rhetoric of foul language, sexual remarks, and personal insults directed at a female colleague.
Faust used profanity at least 40 times in a nearly four-minute talk and berated co-host Crystal Cooper for her weight and breeding skills, among other things.
Faust's off-air comments were digitally recorded and anonymously sent to Post-Dispatch after 5 p.m. Friday.
Faust confirmed, Monday, the occurrence of the confrontation.
"Well, it is," Faust said when the clip was said to be lewd. He said there was a "background" to the story but declined to comment further.
The explosion occurred on Tuesday morning KFNS (100.7 FM), which is a hard rock station known as "The Snake". That neared the end of the 8-10 a.m. driving show, "The Edge," which Faust regularly hosts on weekdays with other characters.
Faust has been a major news anchor for KTVI (Channel 2), the local Fox affiliate, since 2015. He has co-hosted the 5 and 9 PM shifts with Mandy Murphey and Jasmine Huda.
The spark of Faust's sermon appears to occur in the closing minutes of the Tuesday radio show, which is Posted on YouTube as a podcast file. No newer offers have been posted.
The video clip from the Tuesday show includes Faust and Cooper engaging in an uncomfortable exchange about content on the Thursday show.
As the show heads toward a final commercial break around 9:50 a.m., the on-air exchange becomes clearer, with Faust calling Cooper a "liar" and saying she was "stupid" for bringing up a "stupid" topic.
The confrontation quickly escalated out of the air: Faust began using expletives and told Cooper several times to "shut up (expletive)" and "shut up (expletive)."
He calls it "fat", "stupid" and "lewd", and refers to it over and over again using an insult, most often directed at women. Then at one point, Faust said "You're nothing" and "You're rubbish."
When talking about her broadcasting skills, Faust says, "You (expletive) um, you don't even know the topics we're talking about. You're just stupid."
He even compliments Cooper for having attended high school. Calling her "good," Faust said, "You think you're special because you went to (Dutchesne's) villa."
On a more menacing note, Faust told Cooper not to return to the show, a situation that Faust says he arranged for her.
"If I came back, I would be in (expletive) every day (expletive)," Faust said, adding that he would "call you[expletive]every day."
When Cooper replies that Faust is not her boss and that she plans to return to the show, Faust says, "Then I will utter (expletive) … I will do whatever (expletive) I need to do to you."
Then as the outside standoff ends as the show prepares to return to the air and shut down the show, Faust tells Cooper, "Your kids have a horrible (raunchy) mom. I feel sorry for them."
On that note, Cooper replied, "Wow. Awesome."
Only once in an external exchange, about halfway through Faust's talk, did Cooper direct any profanity at Faust, saying that he should "calm (expletive)" because he was "acting like an immature (expletive)".
Cooper could not be reached for comment. Her Facebook page She notes that she started working on The Viper in May and quit on September 13, the day of her confrontation with Faust.
He also participated in The Tuesday Show with Faust and Cooper Eric Johnson and Brendan Shanahan.
During the early moments of the air confrontation, one of the neutral hosts can be heard saying "Don't be like this, guys". Later, a co-host said, "Vic, Vic, Vic, Vic….stop, stop."
The Tuesday Show podcast was the last broadcast on the Internet; And on Monday, the morning driving slot was exclusively for music programming.
Radio station general manager Chris Blevins could not be reached on Monday for comment. The station's sales manager, Brian Richardson, said the Faust show was not on the air "for the time being" and referred more questions to Blevins.
In his outburst, Faust stated that he had previously complained to Blevins about Cooper's performance on air.
Audrey Brewich, KTVI's director of news, also could not be reached for comment.
The radio station, which plays hard rock, is licensed from Troy, Missouri; His studios are located in Lake St. Louis. It is no longer associated with the Am sports-talk station with the same calling messages.
Faust graduated in 1991 from Altufe Catholic University in Belleville. He attended the University of Missouri on an athletic scholarship and played hard with the football tigers.
After graduation, he began his radio career in sports with the Missouri Tiger Radio Network. He began working in television in 1998 and covered sports news in Saint Joseph and Columbia, Missouri. Tulsa. and Detroit.
In April 2015, he left the Detroit television station after 11 years to join KTVI and replace retired Tom O'Neill.
This is the YouTube post from the Tuesday show of "The Edge" featuring Faust and Cooper. The confrontation begins live at approximately 1:48:00 of the clip.